Rotterdam 2021
Ahead of the Live Semi Final 2 show tonight some unfortunate news have been announced, as the Dutch Eurovision 2019 winner, Duncan Laurence, has been confirmed tested positive for Covid.
Thursday, 20 May 2021
Everything in Rotterdam Ahoy is ready for the Second Semi final Live Show of the 65th Eurovision Song Contest, set to hit the screen this evening at 21:00 CEST.
Thursday, 20 May 2021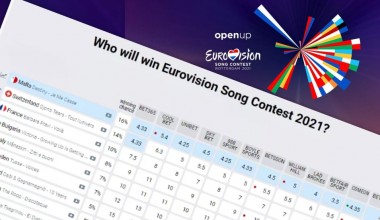 With the first semi final 1 qualifiers determined the betting odds have been showing some ups and downs for the countries over the last hours.
Wednesday, 19 May 2021
The Icelandic hopefuls, Daði og Gagnamagnið will not perform live in the Semi final 2 show as one of the group members was tested covid-19 positive.
Wednesday, 19 May 2021
After yesterday's Semi final 1 show Eurovision week continues to unfold with the Semi Final 2 Jury Show taking place this evening in Rotterdam Ahoy at 21:00 CET.
Wednesday, 19 May 2021