Rotterdam 2021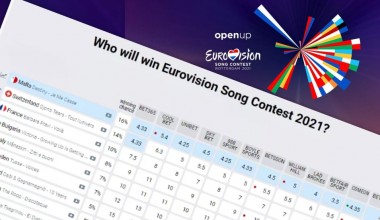 With the 20 semi final qualifiers determined and the Grand final line up completed the betting odds are trending to reflect a more clear picture of the favorites to win this year's contest.
Friday, 21 May 2021
With the two semi final shows over, the Press Poll held every year in the press center, is in its sixth day running currently to predict the final Eurovision winner.
Friday, 21 May 2021
The 2021 Eurovision Grand final Jury Show will take place this evening in Rotterdam Ahoy marking the final countdown for this year's final live show to crown the winner.
Friday, 21 May 2021
Once the 2021 Eurovision Grand final line up was completed with the 2nd semi final qualifiers, the EBU and Dutch organisers revealed the running order of the 2021 Eurovision Grand Final show set to take place on Saturday, May 22 in Rotteram Ahoy.
Friday, 21 May 2021
The Second Semi Final show of the 2021 Eurovision Song Contest is over and we have our second set of ten qualifiers which completes the line up for Saturday's Grand final show!
Thursday, 20 May 2021