Rotterdam 2021
The Eurovision Press Poll held every year in the press center, concluded today just before the final show, predicting as Eurovision 2021 winner Barbara Pravi from France.
Saturday, 22 May 2021
The specific order in which the Eurovision 2021 Grand final Jury results will be announced in this evening's final show has been revealed.
Saturday, 22 May 2021
The 2021 Eurovision Grand Final show is set to take place this evening Live in Rotterdam and will hit the screen at 21:00 CEST with 26 countries competing on stage for this year's trophy.
Saturday, 22 May 2021
EBU's new Executive Supervisor of the Eurovision Song Contest has dropped some hints on potential changes that could be introduced to the following editions of the Eurovision Song Contest.
Friday, 21 May 2021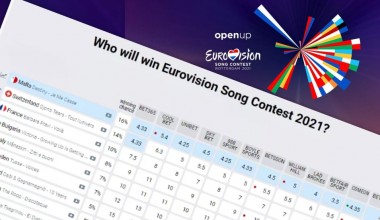 With the 20 semi final qualifiers determined and the Grand final line up completed the betting odds are trending to reflect a more clear picture of the favorites to win this year's contest.
Friday, 21 May 2021