France: Barbara Pravi releases an acoustic version of her ESC 2021 entry "Voilà"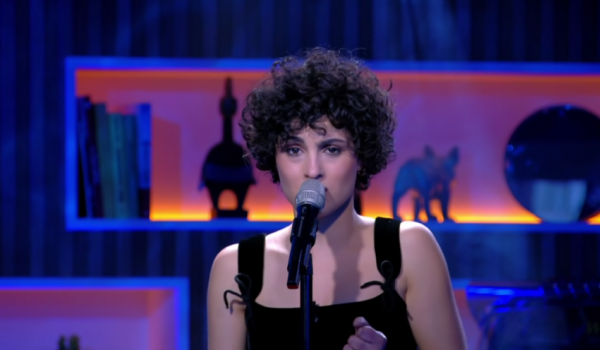 Thursday, 08 April 2021
France's Barbara Pravi has released an acoustic version of her song for Eurovision 2021, "Voilà".

Following her victorious performance at the French Eurovision national final that gave her the ticket to Rotterdam with her song "Voilà" and the release of the music video of her entry, Barbara Pravi treats the fans with an acoustic version of "Voilà".

Once again Barbara delivers the song in a very sentimental way showcasing the confessional character of the song the lyrics of which are autobiographical, an open call to people to accept her just as she is.

A few words for Barbara Pravi

Barbara Piévic , said Barbara Pravi , is a singer-songwriter French , born on in Paris . Her stage name is Barbara Pravi, but her real last name is Pievic, in Serbian Пјевић (Pjević). She grew up in a family of artists, surrounded by books and music. Pravi is a Serbian word derived from prava meaning "Authentic", in homage to his paternal grandfather of Serbian origin.

In January 2016, she performed On m'appelle Heidi , the French version of the credits of the film Heidi , a 2015 adaptation, released in France in 2016, of two famous children's novels.

She released her first single Pas grandir in 2017 6 ; it will be included in her first EP, eponymous, released in 2017. That same year, she obtained her first role as an actress in a TV movie La Sainte famille , directed by Marion Sarraut and broadcast in December 2019 on France 2.

In February 2020, she released a new 5-track EP "Reviens pour Winter" of which she is the author, composer and co-director. For these songs, she collaborated with Stan Neff, Lili Poe, Vincha , November Ultra and Wladimir Pariente .

Along with writing and composing her own songs, she writes for many other artists such as Yannick Noah , Julie Zenatti , Chimène Badi , Jaden Smith , Angelina , etc. Barbara Pravi and Igit have together more than 135 million views on YouTube with their compositions for Kids.

In 2019 and 2020, she co-wrote with Igit the songs Bim Bam Toi and J'imagine presented at the Junior Eurovision Song Contest 2019 and 2020 respectively . Bim Bam Toi , peroforemd by Carla , finished fifth in ranking and J'Imagine , played by Valentina , who eventually won the 2020 competition with 200 points. in the lead with both the professional jury and the public vote .